Tailored operating systems and embedded software
For your connected devices and your industrial systems, we design and develop custom embedded software. At all times, meeting your needs in accordance with your technical and normative constraints is our priority.
Embedded devices software design and development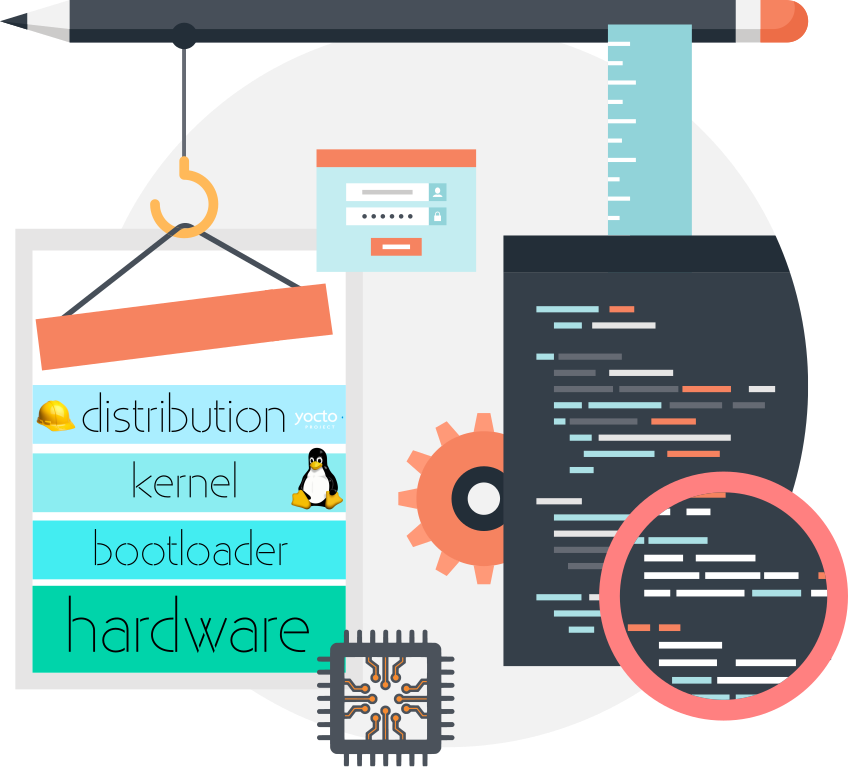 We select and assemble open-source components to to build the ideal operating system for your project. We configure Linux for your hardware and then we implement a tailored selection of software to your product. So you can have a platform that:
Exploit your hardware (SoC, RAM, SD, Wi-Fi, bluetooth …)
Has an update system
Connect to the cloud of your choice or to your database
Has a graphical interface
Process images and videos
Collection of sensor data
Actuator control
Communicates with micro-controllers
Perform real-time tasks
Expose a web configuration interface
Control your energy consumption
You will control all the components, which will allow you to guarantee a high level of customization, performance and security.
We adapt Linux to your electronic design and your needs. We create operating systems that combine stability, maintainability and security. From the configuration of the boot loader or the update device, to the writing of drivers, we are committed to your side to deliver a customized and powerful Linux distribution.
Embedded applications design and development
Whether it is to communicate with a cloud platform or to design a graphical interface, we are able to offer you innovative applications that differentiate you from your competitors and bring you maximum value.
The software components available on your platform make it possible to design the software that adds value to your business. Openest can support you in the design and development of these applications: real-time development and debugging of critical applications are part of our daily lives.